Lucky Ladybug Girl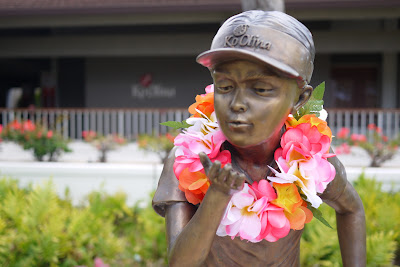 Ovan ser ni Lucky Ladybug Girl – en staty utanför klubbhuset på Ko Olina Golf Course jag skrivit om här. Nyckelpigan har många berättelser och uppskattas av alla runtom i Hawaii, speciellt bönder och golfare. På bondgårdarna och fruktfälten hjälper nyckelpigan till med bättre resultat. På golfbanan så beskrivs legenden så här:
"Legend says that if she lands on your shoulder, sweet talk her to your finger and with a gentle breath, send her off, Lady Luck will lead you to the cup."
Inspirationen till statyn var Michelle Wie – en golfare från Hawaii som blivit världskänd de senaste åren. Men modell till statyn blev en annan juniorgolfare (anonym) här i Hawaii.
Aloha!
Spåra från din sida.