Pirates of the Caribbean
Nu har Black Pearl, eller rättare sagt Queen Anne's Revenge, kommit fram till Kaneohe Bay….i bukten inte så långt ifrån där jag bor. Jag har faktiskt inte sett en ända Pirates of the Caribbean film men det är ändå en fantastisk syn att se det stora piratskeppet.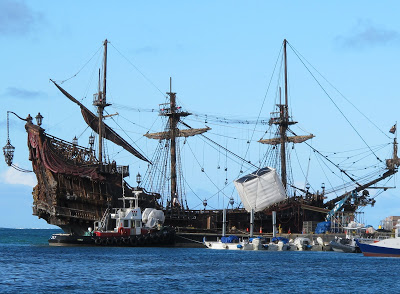 Jag kom inte närmare än så här….i alla fall inte idag. Tydligen så höll dom fortfarande på att filma så vakterna höll oss på avstånd. Tänkte paddla ut med kayaken nästa vecka för att se om jag kan komma närmare.
Är Hawaii likt karibien? Inte vad jag har sett, fast jag har dock bara varit på Puerto Rico, vilket är ganska annorlunda från Hawaii.
Aloha!
Spåra från din sida.