Warrior Football 2012
För Er som är intresserade i amerikansk fotboll så följer här schemat på när University of Hawaii Warriors spelar deras matcher. Hawaii har ju inget professionellt fotbollslag så universitetslaget är riktigt populärt och kallas kort och gott "Warriors". Förr i tiden så hette dom Rainbow Warriors men det sågs för mesigt så dom tog bort första ordet.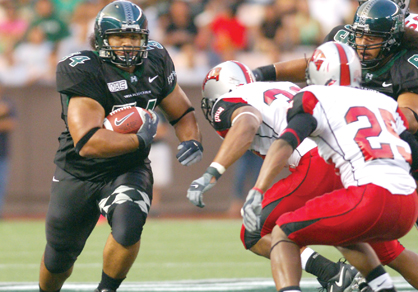 Laget spelade ganska bra för några år sedan och tog sig till Sugar Bowl. Men den populära coachen June Jones har flyttat till en annan skola på fastlandet. I år har laget inte mycket förtroende. Deras första match är nu på lördag och dom väntas förlora riktigt stort.
Anyway, här är matchkalendern:
Sept 1     mot University of Southern California (USC)
Sept 15   mot Lamar
Sept 22   mot Nevada
Sept 28   mot Brigham Young University
Oct 6      mot San Diego State
Oct 13    mot University of New Mexico
Oct 27    mot Colorado State University
Nov 3     mot Fresno State University
Nov 10   mot Boise State University
Nov 16   mot Air Force
Nov 24   mot University of Nevada Las Vegas (UNLV)
Dec 1     mot University of South Alabama
Kör hårt! Aloha!
Spåra från din sida.